THE AUTHORITY OF VILLAGE GOVERNMENT IN AFFIRMING BORDER MANAGEMENT (CASE STUDY OF GALANG ISLAND DISPUTE)
Keywords:
dispute resolution, border
Abstract
Border Disputes related to territorial management between local Governments dominate the ongoing cases within the Ministry of Internal Affairs in Indonesia. This study aims to propose a model of a policy of border Disputes resolution using non-doctrinal legal research (socio-legal research). This research limited itself by looking at Galang Island, the which is disputed between the city of Gresik and Surabaya. To gain Appropriate analyzes, in depth interviews and secondary of data was conducted and collected both in Gresik and Surabaya. Furthermore, this research finds that the reason underpinned such Disputes lays on the weaknesses of village government in the territorial management proofing Formally they have been doing. It is submitted that in forming and affirming border delimitation, Indonesian Act Number 6 year 2014 on Village jo Ministry of Internal Affairs Regulation number 114 year 2014 can used as legal base.
References
Ahmad SJA, dkk, 2009, Menuju Demokratisasi Pemetaan (Refleksi Gerakan Pemetaan Partisipatif di Indonesia), JKPP (Jaringan Kerja Pemetaan Partisipatif), Bogor.
Brian Taylor Summer dalam Aditya Batara G & Beny Sukadis, (Editor), 2007, Reformasi Manajemen Perbatasan di Negara-Negara Transisi Demokrasi, DCAF & LESPERSSI, Jakarta.
Dean G. Pruit & Jeffrey Z Rubin, 2004, Teori Konflik Sosial (terjemahan), Pustaka Pelajar, Yogyakarta, Social Conflict: Escalation, Stalemate and Settlement, Mc. Graw-Hill In.
Djoko Harmantyo, 2007. Pemekaran Daerah dan Konflik keruangan Kebijakan otonomi daerah dan Implementasinya di Indonesia, Makara, sains, vol. 11, No. 1.
Ira Permata Sari, 2014, Konflik Perbatasan Pemerintah Daerah (studi kasus: perebutan gunung kelud antara pemerintah daerah Kabupaten Blitar dengan Kabupaten Kediri), Jurnal Ilmu Pemerintahan UB Edisi 08 Januari 2014.
Jembris Mou, 2015, Konflik Wilaya Antara Kabupaten Halmahera Utara dengan Kabupaten Halmahera Barat, Jurnal Politico Vol.2 No.6 Tahun 2015
Nida Zidny Paradhisa, 2012, Konflik Kepentingan Daerah: Studi Kasus Sengketa Perebutan Gunung Kelud antara Pemerintah Kabupaten Kediri dan Pemerintah Kabupaten Blitar, Jurnal Politik Muda Universitas Airlangga, Vol 2 No.1, Januari-Maret 2012
Nurbadri, 2008, Konflik Batas Wilayah diera Otonomi Daerah dan Upaya Penyelesaiannya (Study kasus Konflik Batas Wilayah antara Kabupaten Tebo dengan Kabupaten Bungo, Jurnal Masalah-Masalah Hukum, Fakultas Hukum Universitas Diponegoro, Vol.37 No.4.
Syamsul Hadi, et.al., 2007, Disintegrasi Pasca Orde Baru: Negara, Konflik lokal dan Dinamika Internasional, Yayasan Obor Indonesia, Jakarta.
Zusmelia MS, 2011, Peneyelesaian Sengketa Batas Ulayat Nagari antara Masyarakat Nagari Muaro Pingai dan Masyarakat Nagari Saningbakar Kabupaten Solok, Jurnla Hukum Respublica, Vol.10 No.2, Fakultas Hukum Universitas Lancang Kuning.
http://www.publiknasional.com/index.php?option=com_content&view=article&id=1464:uruk-pantai-pt-gantari-sandya-mitra-diprotres-nelayan&catid=36:jawa-timur, diakses pada 27 Mei 2015
Undang-Undang Dasar 1945
Undang-Undang Nomor 6 Tahun 2014 tentang Desa
Undang-Undang Nomor 23 Tahun 2014 tentang Pemerintahan Daerah
Peraturan Pemerintah Nomor 43 Tahun 2014 Tentang Peraturan Pelaksanaan UU Nomor 6 Tahun 2014 Tentang Desa
Peraturan Menteri Dalam Negeri Nomor 114 Tahun 2014 tentang Pedoman Pelaksanaan Pembangunan Desa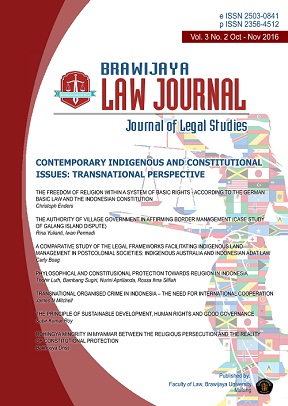 Downloads
How to Cite
Yulianti, Rina, and Iwan Permadi. 2016. "THE AUTHORITY OF VILLAGE GOVERNMENT IN AFFIRMING BORDER MANAGEMENT (CASE STUDY OF GALANG ISLAND DISPUTE)". Brawijaya Law Journal 3 (2):106-24. https://doi.org/10.21776/ub.blj.2016.003.02.02.
License
Copyright (c) 2016 Brawijaya Law Journal : Journal of Legal Studies
This work is licensed under a Creative Commons Attribution-NonCommercial 4.0 International License.