Who's Law is it Anyway? (A Comparison of Attitudes Towards Dispute Resolution in China and Taiwan, Through Australian Eye)
Keywords:
Alternative Dispute Resolution, mediation, China, Taiwan, Australia, cultural attitudes, comparative study
Abstract
This essay aims to address the gaps in research by exploring how non-legal cultural backgrounds and historical contexts can affect how mediation is received in different legal systems. While there is never a discussion of cultural attitudes contributing to the relative success of ADR methods, the comparison reveals just how important culture is when examining legal process. Different legal system results in different perception of justice and thus it is important to identify lesson learn from different experiences and incorporate them into each system to better facilitate dispute resolution in own system.
Case studies and legislation, as well as the study of how mediation processes are utilised effectively and are used to argue that culture is an important factor to consider when examining ADR processes. In order to investigate the role of culture in mediation process, this paper uses comparative analyses of mediation process in Australia, China and Taiwan.
References
Books
Courts and Tribunals Judiciary, History of the Judiciary (2017)
Merrils, J.G, Alternative Dispute Resolution, (1999)
Shaw, Malcolm, International Law, (1998)
Journal Articles
Alexander, Nadja 'What's Law Got to Do With It? Mapping Modern Mediation Movements in Civil and Common Law Jurisdictions' (2001) 13 Bond Law Review 1
Cohen, Jerome Alan 'Chinese Mediation on the Eve of Modernization' (1966) 54 California Law Review 1201
Dwight, Peter 'Commercial Dispute Resolution in Australia: Some Trends and Misconceptions' (1989) 1 Bond Law Review 1
Feng, Yujun 'Legal Culture in China: A Comparison to Western Law' (2010) 16 Revue Juridique Polynesienne 115
Huang, Philip 'Court Mediation in China, Past and Present' (2006) 32 Modern China 275
Kwok, David 'The (im)propriety of judicial mediation' (2015) 26 Australia Dispute Resolution Journal 210
Lin, Yun-Hsien Diana 'Civil Mediation in Taiwan: Legal Culture and the Process of Legal Modernisation' (2011) 6 University of Pennsylvania East Asia Law Review 191
Popa, Tina 'All the way with ADR: Further endorsement of ADR in litigation' (2015) 26 Australian Dispute Resolution Journal 218
Wang, Tay-Sheng 'The Legal Development of Taiwan in the 20th Century: Toward a Liberal and Democratic Country' (2002) 11 Pacific Rim Law and Policy Journal 531
Legislation
Civil Procedure Law of the People's Republic of China
Cooperative and Community Housing Act 1991 (SA)
The Act of Town Mediation (Taiwan)
Cases
Jones v National Coal Board [1957] 2 QB 55
Internet
Kirby, Michael 'ADR and Different Legal Cultures' (Speech delivered at the Arbitrators' and Mediators' Institute of New Zealand, Institute of Arbitrators and Mediators Australia Conference, Christchurch NZ, 6 August 2010)
http://www.michaelkirby.com.au/images/stories/speeches/2000s/2010_Speeches/2476-AMINZ--IAMA-CONF-2010-CHRISTCHURCH-NZ.pdf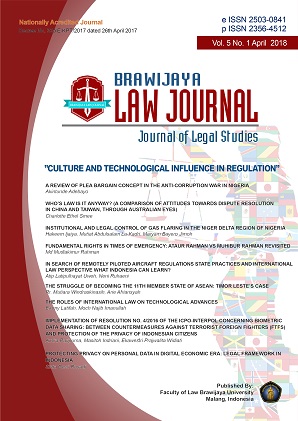 Downloads
How to Cite
Smee, Charlotte Ethel. 2018. "Who's Law Is It Anyway? (A Comparison of Attitudes Towards Dispute Resolution in China and Taiwan, Through Australian Eye)". Brawijaya Law Journal 5 (1):18-28. https://doi.org/10.21776/ub.blj.2018.005.01.02.
License
Copyright (c) 2018 Brawijaya Law Journal : Journal of Legal Studies
This work is licensed under a Creative Commons Attribution-NonCommercial 4.0 International License.