THE PRINCIPLE OF SUSTAINABLE DEVELOPMENT AND GOOD GOVERNANCE
Keywords:
good governance, constitutional law
Abstract
Sustainable development leads the society towards a new orientation and hammers on our cognitive faculty to see the perspectives of development in a new form which requires the radical change in social economic and political perspectives and thus gives birth of sustainable governance. Environmental governance is a precise term indicates towards the activities of various institutions and structure of authority related to protection of natural environment. Environmental governance and the sustainable governance are not same. The former aims to involve government, individuals, industries, civil societies, Internationals and non-governmental institutes in policy formulations and decision making process in environmental performances to face the challenges of the globalised world and to curb pollutant. On the other hand governance for sustainability is value based and advocates for the preservation of integrity of ecology of the Earth. The approach of Sustainable governance is very specific and target oriented i.e. save the planate, promote human development and achieve universal prosperity and peace. But still we have not been able to achieve the above targets despite of having a number of conventions, treaties, and covenants etc. Furthermore the theme of 'green economy' of Rio+20 is a contested concept and the critiques apprehend that it may downplay the concept of sustainable development. Under the above backdrop this paper intends to scan the global initiative towards ensuring sustainable governance and will also make analysis that whether still the focus of the UN is pointed on sustainable governance or wandering in jugglery of brown and green economy.
References
B.J. Richardson,B.J. and Wood, S. 'Environmental Law for Sustainability' in Environmental Law for Sustainability (Hart Publishing: Oxford, 2006)
Mark Whitehead, Spaces of Sustainability- Geographical perspectives on the sustainable society Taylor & Francis e-Library, 2006
Bosselmann, Klaus, Engel, Ron and Taylor, Prue. (2008). Governance for Sustainability – Issues, Challenges, Successes. IUCN, Gland, Switzerland
Macrory (2010) Regulation, Enforcement and Governance in Environmental Law (Hart Publishing Paperback)
Holder and Lee, Environmental Protection, Law and Policy (Cambridge University Press, 2007)
Ball and Bell on Environmental Law (OUP 7th ed.)
Birnie patricia , Boyle Alan and Redgwell Catherine , International Law and the Environment , 3rd edition , Oxford University Press.
Stranks Jeremy, The A-z of the Environment, Viva Books Publictio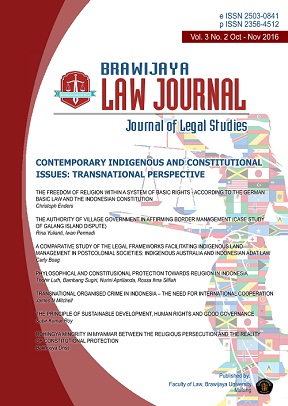 Downloads
How to Cite
Roy, S. K. (2016). THE PRINCIPLE OF SUSTAINABLE DEVELOPMENT AND GOOD GOVERNANCE. Brawijaya Law Journal, 3(2), 200–220. https://doi.org/10.21776/ub.blj.2016.003.02.06
License
Copyright (c) 2016 Subir Kumar Roy
This work is licensed under a Creative Commons Attribution-NonCommercial 4.0 International License.
This journal embed or display simple machine-readable CC licensing information. This journal allow reuse and remixing of content in accordance with a Creative Commons license, Creative Commons Attribution 4.0 International License (CC BY NC)
Authors who publish with this journal agree to the following terms:
Authors retain copyright and grant the journal right of first publication with the work simultaneously licensed under a Creative Commons Attribution 4.0 International License (CC BY NC) that allows others to share the work with an acknowledgement of the work's authorship and initial publication in this journal.
Authors are able to enter into separate, additional contractual arrangements for the non-exclusive distribution of the journal's published version of the work (e.g., post it to an institutional repository or publish it in a book), with an acknowledgement of its initial publication in this journal.
Authors are permitted and encouraged to post their work online (e.g., in institutional repositories or on their website) prior to and during the submission process, as it can lead to productive exchanges, as well as earlier and greater citation of published work (See The Effect of Open Access).