ALIGNMENT OF MALAYSIA AND ASEAN AGREEMENTS ON ICT LAWS: A REVIEW
Keywords:
electronic commerce, ASEAN.
Abstract
The mega Multimedia Super Corridor (MSC) project launched in 1996 is a strong endorsement of the Malaysian government's commitment towards developing the ICT industry in Malaysia. To attract world-class technology companies and prepare the local ICT industry, the government has offered MSC Malaysia Status to companies developing or using multimedia technologies in producing and enhancing their products and services and locating in any of the 26 Cybercities and Cyber centres in Malaysia. MSC status confers incentives, rights and privileges under the MSC Malaysia Bill of Guarantees. This ICT initiative also underlies Malaysia's commitment to lead the region in protecting intellectual property and adherence to cyber laws. As a member of E-ASEAN this assurance aligns with the e-ASEAN initiative to adopt electronic commerce regulatory and legislative frameworks that create trust and confidence for consumers and facilitate the transformation of businesses towards the development of e-ASEAN. This paper identifies and analyses the extent of the Malaysian government's compliance with e-ASEAN principles particularly in the legal and regulatory aspects.
References
Abdul Manap, Nazura, et al, (2013) ‗The Influence Of e-Asean in The Development of ICT Law in Malaysia' Internal Journal of Soft Computing.
Anil, Samtani, (2001) ‗Electronic Commerce in Asia: The Legal, Regulatory and Policy Issues' Int. J Law Info Tech.
Jehangir, Muhammad, P.D.D Dominic, Naseebullah, Alamgir Khan, (2011) ‗Towards Digital Economy: The Development of ICT and E-Commerce in Malaysia' 5(2) Modern Applied Science,
Kuppusamy, Mudiarasan, Murali Raman, Geoffrey Lee, (2009) ‗Whose ICT Investment Matters to Economic Growth: Private Or Public? The Malaysian Perspective' EJISDC. Kuppusamy, Mudiarasan and Bala Shanmugam, (2007) ‗Information Communication Technology and Economic Growth in Malaysia' 11(2) Review of Islamic Economics.
‗Review of e-Commerce Legislation Harmonization in ASEAN' (2013) United Nations Conference on Trade and Development (UNCTAD).
Rodolfo Noel S. Quimbo, (2012) ‗The e-ASEAN Legal Framework and Its Challenges' Harmonized Development of Legal and Regulatory Systems for e-Commerce in Asia and the Pacific: Current Challenges and Capacity-Building Needs.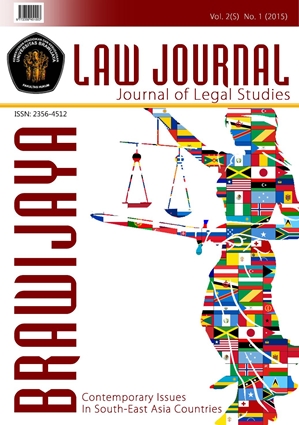 Downloads
How to Cite
Manap, Nazura Abdul. 2015. "ALIGNMENT OF MALAYSIA AND ASEAN AGREEMENTS ON ICT LAWS: A REVIEW". Brawijaya Law Journal 2 (1 (S):1. https://doi.org/10.21776/ub.blj.2015.002.01.01.
License
Copyright (c) 2015 Nazura Abdul Manap
This work is licensed under a Creative Commons Attribution-NonCommercial 4.0 International License.