Civil-Military Cooperation (CIMIC) in Humanitarian Assistance and Disaster Relief (HADR): The Legal Frameworks
Keywords:
civil-military cooperation (CIMIC), humanitarian assistance and disaster relief (HADR), legal frameworks
Abstract
Civil-military cooperation (CIMIC) is one of the most crucial factors for a successful humanitarian assistance and disaster relief (HADR) operation. It is important to foster the relationship between these two sectors to pursue effective outcomes for the operation. Therefore, a developed mechanism for civilian-military coordination including clear CIMIC frameworks is needed. This paper explores the frameworks/guidelines on CIMIC in HADR issued by three international organizations, namely the United Nations (UN), the North Atlantic Treaty Organization (NATO), and the Association of Southeast Asian Nations (ASEAN). The focus of this study will be on the operation at the operational phase. The CIMIC fundamentals and principles of the foreign military sector will be scrutinized. Consequently, the analysis would help identify the essential subjects for policymakers to consider and issue the proper national framework for CIMIC in HADR.
References
ASEAN RegionalForum. 2010. ASEAN Regional Forum Strategic Guidance for Humanitarian Assistance and Disaster Relief (draft version 8 –March 2010). https://www.rcrc-resilience-southeastasia.org/wp-content/uploads/2016/08/1._ARF_Strategic_Guidance_for_Humanitarian_Assistance_and_Disaster_Relief.pdf
Ayers, James R. "Military Operations Other Than War in the New World Order: An Analysis of Joint Doctrine for the Coming Era." Air University, 1996.
Bartko, František. "Holistic Analysis of the Military District Units Disaster Relief Efforts." Science & Military1 (n.d.): 40–42.
CCOE. "CIMIC Handbook," n.d. https://www.cimic-coe.org/publications/ccoe-publications/field-handbook.
Cottey, Andrew, and Ted Bikin-Kita. "The Military and Humanitarianism: Emerging Patterns of Intervention and Engagement." In In Resetting the Rules of Engagement: Trends and Issues in Military-Humanitarian Relations, edited by Victoria Wheeler and Adele Hamer, 21–38. London: Overseas Development Institute, 2006.
Defense, Department of, ed. Joint Publication 3-07: Joint Doctrine for Military Operation Other Than War. The Joint Chiefs of Staff, 1995.
Drifmeyer, Jeff, and Craig Llewellyn. "Toward More Effective Humanitarian Assistance." Military Medicine169, no. 3 (2004): 161–68.
E, Fischer. "Disaster Response: The Role of a Humanitarian Military," 2011. www.army-technology.com .
Engstrom, Jeffrey. "Taking Disaster Seriously: East Asian Military Involvement in International Disaster Relief Operations and the Implications for Force Projection." Asian Security9, no. 1 (2013): 38–61.
Fukushima, Annie Isabel, and Et.al. "Disaster Militarism: Rethinking U.S. Relief in the Asia-Pacific." Foreign Policy in Focus and The Nation.com, 2014. https://fpif.org/disaster-militarism-rethinking-u-s-relief-asia-pacific/.
Hall, Rosalie Arcala, ed. Civil-Military Cooperation in Emergency Relief. Quezon City: Central Book Supply Inc, 2009.
Harkin, Clare. The 2004 Tsunami: Civil Military Aspects of the International Response. London: Tsunami Evaluation Coalition, 2005.
Heaslip, Graham, and Elizabeth Barber. "Using the Military in Disaster Relief: Systemizing Challenges and Opportunities." Journal of Humanitarian Logistics and Supply Chain Management4, no. 1 (2014): 60–81.
Hsieh, Yih-Shiun. The ROC Armed Forces and Civil Society in Natural Disaster Relief Operations: A Deepening Cooperation and the Establishment of Sound Disaster Relief System, 2010.
Irish, H. Allen. "A 'Peace Corps with Guns': Can the Military Be a Tool of Development?" In The Interagency and Counterinsurgency Warfare: Stability, Security, Transition, and Reconstruction Roles, edited by Joseph R. Cerami and Jay W. Boggs, 53–95. Carlisle, PA: Strategic Studies Institute, 2007.
Joyce, Neil. "Civilian-Military Coordination in the Emergency Response in Indonesia." Military Medicine 171, no. 10 (2006): 66–83.
Madiwale, Ajay, and Kudrat Virk. "Civil–Military Relations in Natural Disasters: A Case Study of the 2010 Pakistan FLoods." International Review of the Red Cross93, no. 884 (2011): 1085–1105.
Malešič, Marjan. "The Impact of Military Engagement in Disaster Management on Civil–Military Relations." Current Sociology63, no. 7 (2015): 980–998.
OCHA. Asia-Pacific Regional Guidelines for the Use of Foreign Military Assets in Natural Disaster Response Operations (Version 8.01 –14/01/14), 2014.
———. Oslo Guideline --Guidelines on the Use of Foreign Military and Civil Defence Assets in Disaster Relief (Revision 1.1 November 2007)., 2007.
Phillips, Mark. The Role of the Military in International Disaster Relief Activities. Tokyo: The National Institue for Defense Studies, 2011. www.nids.mod.go.jp/english/event/symposium/pdf/2011/e_03.pdf .
Russell, Timothy Edward. "The Humanitarian Relief Supply Chain: Analysis of the 2004 South East Asia Earthquake and Tsunami." Massachusetts Institute of Technology, 2005.
Shabab, Raja, Arshad Ali, Shahid Iqbal, and Maqbol Sadiq Awan. "Armed Forces and Disaster Management." American Journal of Social Science Research1, no. 3 (2015): 152–57.
Sillapanun Lumkul ศิลปานันต์ล ากูล. 2015."Botbart Khong Kongthap Thai Nai Karn Jadkarn Paipibut Thang Thammachart Nai Prathet Thai: Bot Samruat Punha Lae Neaokit Nai Karn Kaekhai,บทบาทของกองทัพไทยในการจัดการภัยพิบัติทางธรรมชาติในประเทศไทย:บทสารวจปัญหาและแนวคิดในการแก้ไข[The roles of the Royal Thai Armed Forces in the natural disaster management in Thailand: an exploration of the problems and idea for solution]." Proceedings. The 15thNational and International Conference Interdisciplinary Research for Local Development Systainability.
The ASEAN Secretariat. 2010. ASEAN agreement on disaster management and emergency response (AADMER). Jakarta: ASEAN Secretariat.
The ASEAN Secretariat. 2010. ASEAN SASOP: Standard operating procedure for regional standby arrangements and coordination of joint disaster relief and emergency response operations. Jakarta: ASEAN Secretariat.
The ASEAN Secretariat. 2014. Weathering the Perfect Storm: Lessons Learnt on the ASEAN's Response to the Aftermath of Typhoon Haiyan (2ndedition). Jakarta: ASEAN Secretariat.
Thapa, Manish. Out of Barracks: Civil-Military Relations in Disaster Management: A Case Study of Nepalese Army's Humanitarian Response during 2015 Earthquake in Nepal. University for Peace, 2016.
Weathering the Perfect Storm: Lessons Learnt on the ASEAN's Response to the Aftermath of Typhoon Haiyan (2nd Edition). Jakarta: The ASEAN Secretariat, 2014.
Weeks, Michael R. "Organizing for Disaster: Lessons from the Military." Business Horizons50, no. 6 (1995): 479–89.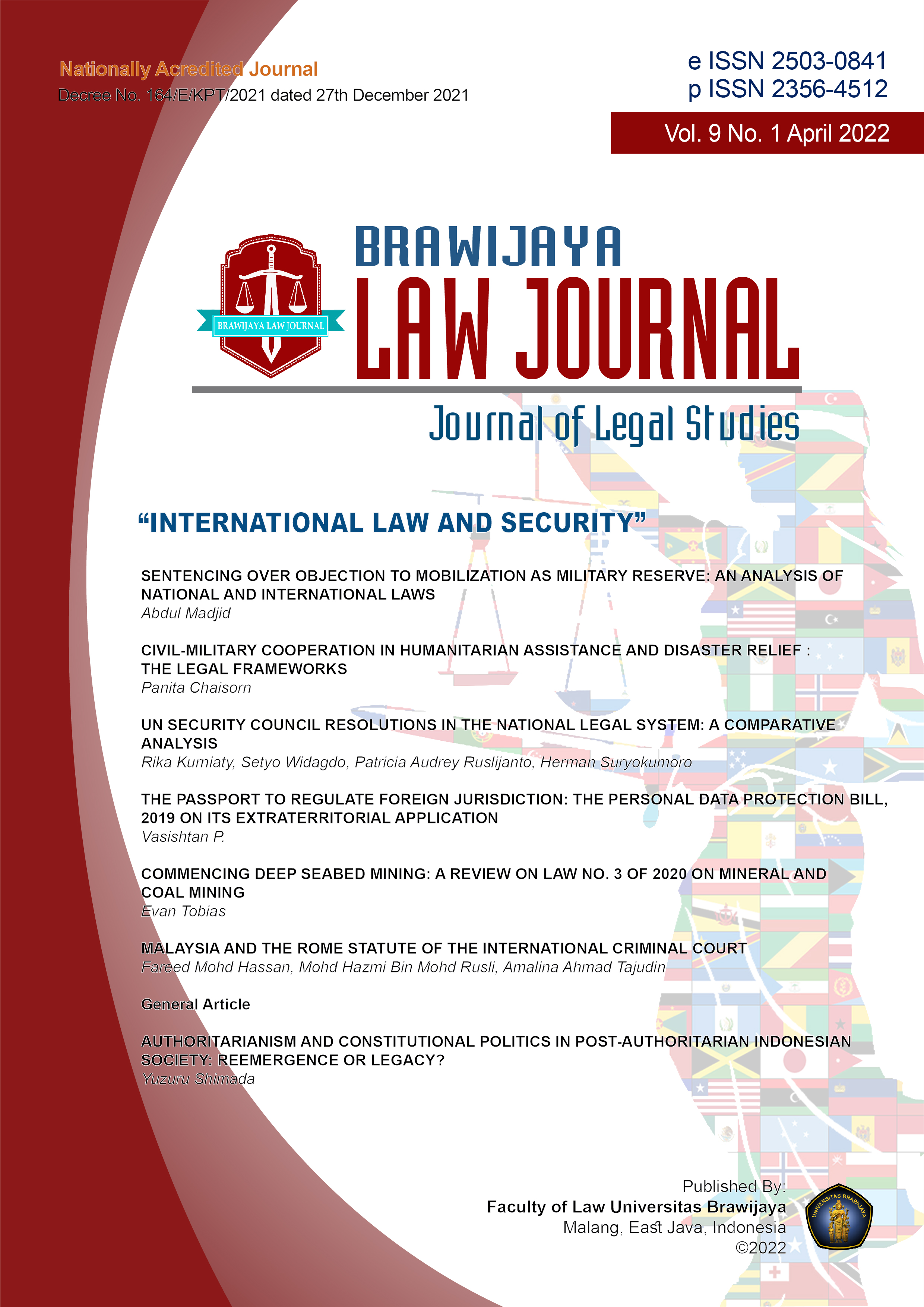 Downloads
How to Cite
Chaisorn, Panita. 2022. "Civil-Military Cooperation (CIMIC) in Humanitarian Assistance and Disaster Relief (HADR): The Legal Frameworks". Brawijaya Law Journal 9 (1):16-32. https://doi.org/10.21776/ub.blj.2022.009.01.02.
License
Copyright (c) 2022 Brawijaya Law Journal
This work is licensed under a Creative Commons Attribution-NonCommercial 4.0 International License.