Compensation as Sanctions for the Perpetrators of Corruption in the Dimensions of Indonesian Criminal Law Renewal
Keywords:
compensation sanction, corporation, corruption.
Abstract
Corruption is one of the negative consequence of corporate crime. Corruption perpetrators from corporations are still relatively new in Indonesia, so legal reform is still needed, which is close to the purpose of criminal law. The existence of legal sanction in the form of compensation becomes a breakthrough for one type of sanction and can impose the perpetrator of corruption. Thus, in this study, we want to find a theoretical basis for corporate punishment that commits corruption and the existence of criminal sanctions for corporate compensation as perpetrators of corruption in efforts to renew criminal law. This study uses normative research by approaching the conceptual approach. From this research, finding a corporate foundation that commits corruption can be imposed by a criminal is in line with the purpose of punishment as well as by ius constituendum. For compensation that is an alternative to corporate punishment as a perpetrator of corruption, it can be brought down along with the principal penalty which has the purpose of accountability and reconciliation, guidance, reintegration, socialization or means of resolving conflicts to the community.
References
Book :
Amrullah, M. Arief, Perkembangan Kejahatan Korporasi, Dampak dan Permasalahan Hukum, (Jakarta, Kencana, 2018)
Ali, Mahrus, Asas-asas Hukum Pidana Korporasi, (Jakarta, PT Raja Grafindo Persada, 2013)
Arief, Barda Nawawi, Perbandingan Hukum Pidana, (Jakarta, PT Rajawali Pers, 2002)
Fuady, Munir, Doktrin-Doktrin Modern Dalam Corporate Law dan Eksistensinya Dalam Hukum Indonesia, (Bandung, Citra Aditya Bakti, 2002)
______, Munir, Teori-Teori Besar (Grand Theory) Dalam Hukum, (Jakarta: Kencana, 2013)
Hiariej, Eddy O.S. ,Prinsip-Prinsip Hukum Pidana, (Yogyakarta: Cahaya Atma Pustaka, 2014)
Kristian, Hukum Pidana Korporasi: Kebijakan Integral (Integral Policy) Formulasi Pertanggungjawaban Pidana Korporasi di Indonesia, (Bandung, Nuansa Aulia, 2014)
M. Sholehudin, Sistem Sanksi Dalam Hukum Pidana (Ide Dasar Double Track System dan Implementasinya), (Jakarta, PT. Raja Grafindo Persada, 2003)
Muladi, Lembaga Pidana Bersyarat, (Bandung; Alumni, 1985)
Muladi dan Diah Sulistyani, Pertanggungjawaban Pidana Korporasi, (Bandung, PT Alumni, 2013)
Muladi dan Dwiwidja Priyatno, Pertanggungjawaban Pidana Korporasi, (Jakarta, Kencana, 2015)
Muladi, Pelaksanaan Pemidanaan di Bidang Hukum Ekonomi, (Jakarta, FH-UNKRI, 1989)
Mulyadi, Lilik, Bunga Rampai Hukum Pidana Perspektif Teoritik dan Praktik. (Jakarta, PT. Alumni. 2008)
Ravena, Dey dan Kristian, Kebijakan Kriminal, (Jakarta, Kencana, 2017)
Sjahdeini, Sutan Remi, Pertanggungjawaban Pidana Korporasi, (Jakarta, Grafiti Pers, 2007)
Subekti, Pokok-pokok Hukum Perdata, (Jakarta, Intermasa, 1984)
Susanto, I.S., Kejahatan Korporasi. (Semarang, Badan Penerbit UNDIP, 1995)
Yulia, Rena, Viktimologi Perlindungan Hukum Terhadap Korban Kejahatan, (Jakarta, Graha Ilmu, 2013)
Journal:
Aswari, Aan, "Sibenertika, Teknologi Siber dan Kebutuhan Hukumâ€, (2016) 2 (Desember) Lentera Justice
Budiarti S, Meilanny dan Santoso Tri Raharjo, "Corporate Social Responsibility (CSR) Dari Sudut Pandang Perusahaanâ€, (2014) 1(Januari), Share Social Work Journal.
Fajrin, Yaris Adhial dan Ach. Faisol Triwijaya, "Pencegahan Korupsi Pasca Putusan MK Nomor 71/PUU/XIV/2016 Melalui Pendekatan Kebijakanâ€, (2019) 1 (Mei), Jurnal HUMANI (Hukum dan Masyarakat Madani).
Hikmawati, Puteri, "Kendala Penerapan Pertanggungjawaban Pidana Korporasi Sebagai Pelaku Tindak Pidana Korupsiâ€, (2017) 1 (Juni), Jurnal Negara Hukum DPR-RI.
Kristian, "Urgensi Pertanggungjawaban Pidana Korporasiâ€, (2013) 4 (Oktober-Desember) Jurnal Hukum dan Pembangunan.
Shanty, Lilik, "Aspek Teori Hukum Dalam Kejahatan Korporasi†(2017) 1 (Januari-Juni) Jurnal Pakuan Law Review.
Suhariyanto, Budi, "Pertanggungjawaban Pidana Korporasi Berdasarkan Corporate Culture Model Dan Implikasinya Bagi Kesejahteraan Masyarakatâ€, (2017)3 (Desember) Jurnal Rechtsvinding
_________, Budi, "Progresivitas Putusan Pemidanaan Terhadap Korporasi Pelaku Tindak Pidana Korupsiâ€, (2017) 2 (Juni) Jurnal De Jure
_________, Budi, "Restoratif Justice Dalam Pemidanaan Korporasi Pelaku Korupsi Demi Optimalisasi Pengembalian Kerugian Negaraâ€, (2016) 3 (Desember), Jurnal Rechtvinding.
Yusrizal, "Tanggung Jawab Korporasi Terhadap Korban Kejahatan Tindak Pidana Lingkungan Hidupâ€, (2012) 57 (Agustus), Kanun Jurnal Ilmu Hukum.
News:
Rachman, Dylan Aprialdo, "Perjalanan Kasus PT NKE, Korporasi Pertama yang Divonis Korupsi", https://nasional.kompas.com/read/2019/01/04/06115311/perjalanan-kasus-pt-nke-korporasi-pertama-yang-divonis-korupsi?page=all.Akses tanggal 1 Juli 2019.
Ramadhan, Bilal. Ini Kronologis Kasus Bank Century. https://www.republika.co.id/berita/nasional/hukum/14/03/06/n20q0m-ini-kronologis-kasus-bank-century. Akses tanggal 21 Juli 2019.
Others :
Syarifah, Nur, Mengupas Permasalahan Pidana Tambahan Pembayaran Uang Pengganti dalam Perkara Korupsi, Lembaga Kajian & Advokasi Independensi Peradilan, 8 Desember 2015, http://leip.or.id/mengupas-permasalahan-pidana-tambahan-pembayaran-uang-pengganti-dalam-perkara-korupsi/#_ftn1, diakses: 21 Juli 2019.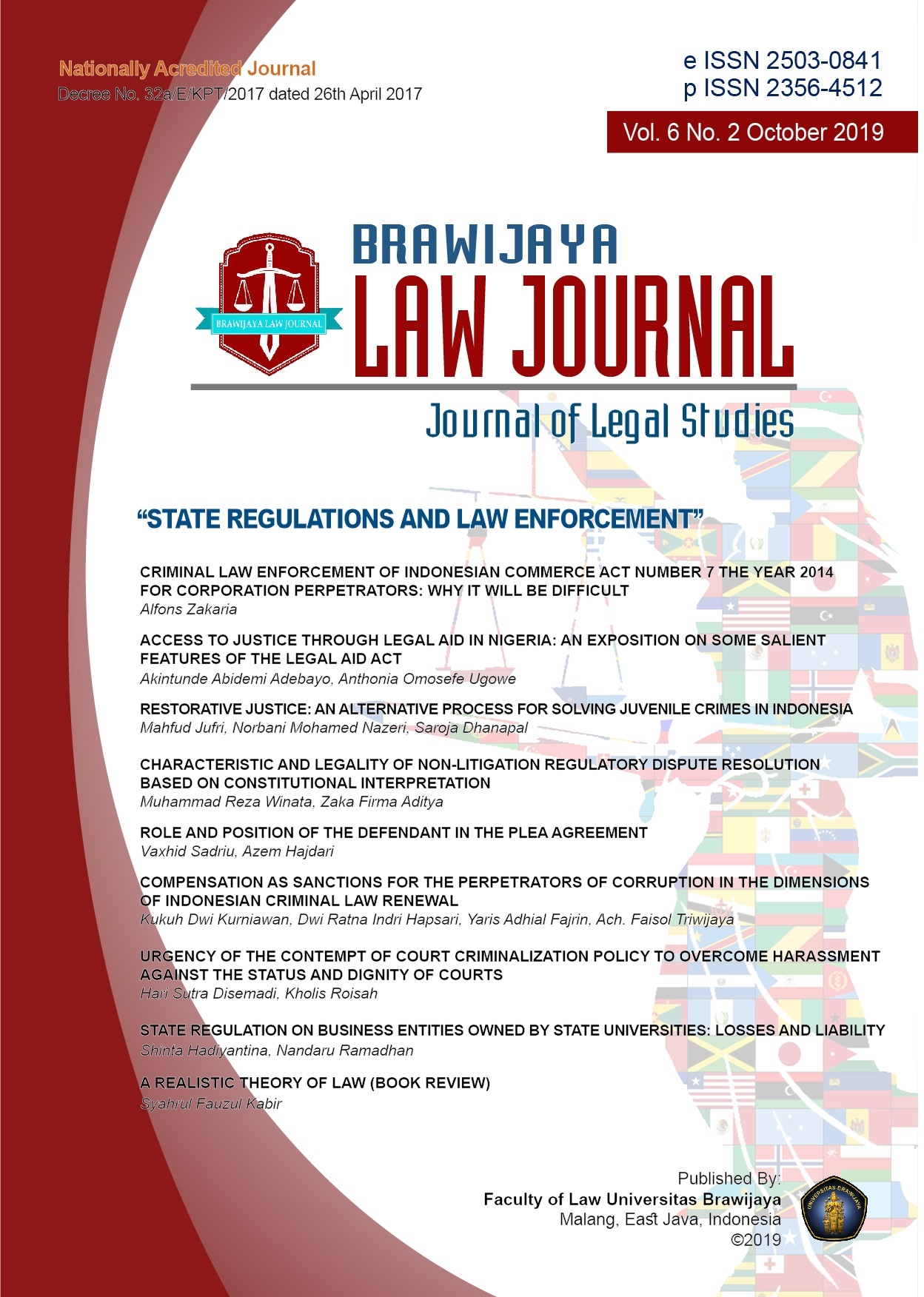 Downloads
How to Cite
Kurniawan, Kukuh Dwi, Dwi Ratna Indri Hapsari, Yaris Adhial Fajrin, and Ach. Faisol Triwijaya. 2019. "Compensation As Sanctions for the Perpetrators of Corruption in the Dimensions of Indonesian Criminal Law Renewal". Brawijaya Law Journal 6 (2):205-23. https://doi.org/10.21776/ub.blj.2019.006.02.06.
License
Copyright (c) 2019 Brawijaya Law Journal : Journal of Legal Studies
This work is licensed under a Creative Commons Attribution-NonCommercial 4.0 International License.