UN Security Council Resolutions in the Legal System: Lesson Learned from Singapore
Keywords:
Democratic legitimacy, National Law UN, Security Council Resolutions, UN Act Chapter 339 of Singapore.
Abstract
United Nations (UN) Security Council (UNSC) resolutions (UNSCRs) are adopted by a vote of the five permanent members and ten non-permanent members of the UNSC. Each UNSCR is understood to be part of the "primary responsibility for the maintenance of international peace and security" of the UN. The Indonesian government has been encouraged by various parties to make a legal instrument that would enforce the UNSCRs. Such an instrument would serve to bridge and reduce gaps in the rule of law regarding the enforcement of UNSCRs for nations. However, the government of Indonesia faces several challenges in implementing legal instruments for the UNSCRs. This article maintains that it is crucial to study accommodative policies regarding the national enforcement of UNSCRs by considering the example of Singapore. Singapore has special laws that respond to UNSCRs (The UN Act Chapter 339-UN Act). UN Act 339 is the legal umbrella in Singapore for the government's implementation of UNSCRs. The UN Act is also an attempt by the Singaporean government to carry out its international obligations to the United Nations.
References
Ahrnens, A. "A Quest for Legitimacy: Debating UN Security Council Rules on Terrorism and Non-Proliferation." Swedia University, 2007.
Donaher, W. F., and R. B DeBLOIS. "Is the Current UN and US Policy Toward Iraq Effective?" The US Army War College Quarterly: Parameters31, no. 4 (2001): 4.
Ezra, Gadi. "The Saga of 'Global Legislation.'" International Law Studies99, no. 2922 (n.d.): 98–100.
Hendra, Eric. "Sekuritisasi Dalam Kerangka 'R2P' Dan Intervensi Kemanusiaan: Dilema Antara Legalitas Dan Legitimasi." Jurnal Hubungan Internasional3, no. 2 (2015): 131–41.
Hurd, Ian. After Anarchy: Legitimacy and Power in the UnitedNations Security Council. New Jersey, USA: Princeton University Press, 2007.
———. "Choice and Methods in the Study of International Organizations." Journal of International Organizations Studies2, no. 2 (2011).
Kurniaty, Rika. "The Right to Democracy Arrangement Under International Law." RechtIdee14, no. 2 (2019): 288–300.
Nasution, H., and F. Nurangga. "Mekanisme Penerapan Intervensi Kemanusiaan Dalam Hukum Nasional Indonesia." Jurnal Penelitian Hukum De Jure20, no. 2 (2020): 189–204.
Öberg, Marko Divac. "The Legal Effects of Resolutions of the UN Security Council and General Assembly in the Jurisprudance of the ICJ." The European Journal of International Law16, no. 5 (2006): 885.
Omba, Marthinus. "Tanggung Jawab Dan Peranan Dewan Keamanan PerserikatanBangsa-Bangsa Dalam Memelihara Perdamaian Dan Keamanan Internasional." Indonesian Journal of International Law5, no. 4 (2008): 766–88.
Spain, Anna. "The U.N Security Council's Duty Decide." Harvard National Security Journal4 (2013): 325–26.
Suri, Jessica Priscilla. "The United Nations Security Council Resolution on Sanctions Towards Individual from the Prespective of International Law." Padjajaran Journal of International Law3, no. 2 (2019): 203.
Suryokusumo, Sumaryo. Hukum Organisasi Internasional. Jakarta: Penerbit Tatanusa, 2015.
Tham, C. H. "Terrorist Property Rights in Singapore: What's Left after the United Nations Act 2001?" Singapore Journal of Legal StudiesJuly (2002): 176–213.
Thio, Li-Ann. "International Law in the Courts of Singapore: No Longer a Little Island?" Asian Yearbook of International Law19 (2013): 1–62.
Voeten, Erik. "The Political Origins of the UN Security Council's Ability to Legitimize the Use of Force." International Organization, 59(3), 527-55759, no. 3 (2005): 527–57. https://doi.org/https://doi.org/10.1017/S0020818305050198.
Widagdo, Setyo, and Et.al. Hukum Internasional Dalam Dinamika Hubungan Internasional. Malang: Universitas Brawijaya Press, 2019.
Widagdo, Setyo, and Rika Kurniaty. "Prinsip Responsibility to Protect (R2P) Dalam Konflik Israel-Palestina: Bagaimana Sikap Indonesia?" Arena Hukum14, no. 2 (2021): 314–27. https://doi.org/http://dx.doi.org/10.21776/ub.arenahukum.2021.01402.6.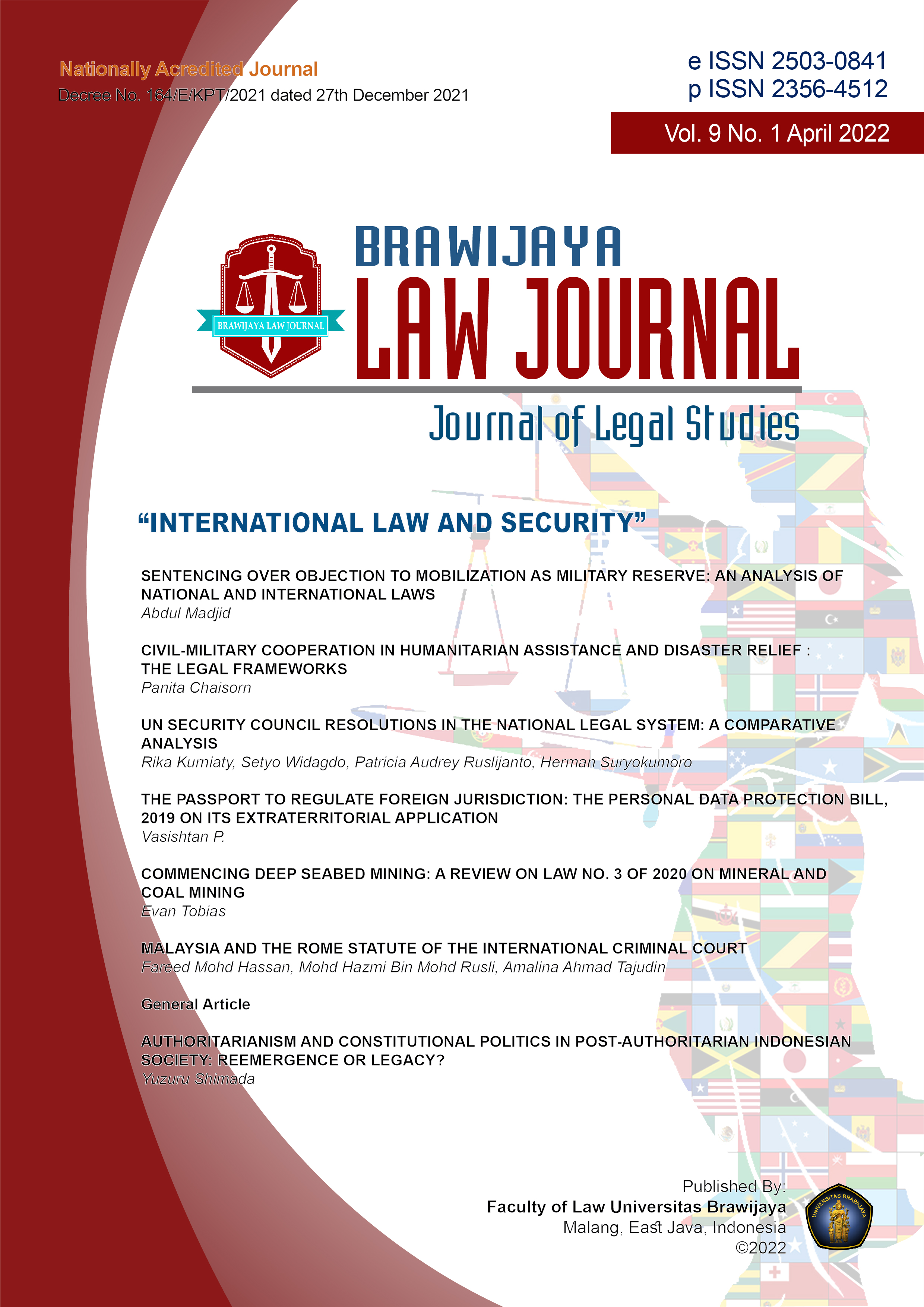 Downloads
How to Cite
Kurniaty, Rika, Setyo Widagdo, Patricia Audrey Ruslijanto, and Herman Suryokumoro. 2022. "UN Security Council Resolutions in the Legal System: Lesson Learned from Singapore". Brawijaya Law Journal 9 (1):33-46. https://doi.org/10.21776/ub.blj.2022.009.01.03.
License
Copyright (c) 2022 Brawijaya Law Journal
This work is licensed under a Creative Commons Attribution-NonCommercial 4.0 International License.