Sentencing over Objection to Mobilization as Military Reserve: An analysis of National and International Laws
Keywords:
sentence, conscientious objection, mobilization, military reserve
Abstract
Law Number 23 of 2019 concerning National Resource Management for State Defense does not regulate conscientious objection, which refers to the right of a person to refuse to participate in a war or military service on the grounds of religion and morality. Their absence in such services is replaced by other responsibilities such as working in public health services, providing security, and being involved in other social services. Article 77 Paragraph (1) of Law Number 23 of 2019 expressly provides for sentences that should be imposed on those who refuse to serve as a military reserve, where the rule is not in accordance with the principle of conscientious objection which gives a person the right to refuse on the basis of conscience. This research discusses the legal consequences of the enactment of two rules regarding military service and the application of different conscientious objections.  This study applied normative juridical methods and approaches to examine the consistency and relevance of various statutes and government regulations that govern conscientious objection. This study also used conceptual and statutory approaches to explore why conscientious objection is considered a ground for refusal to participate in conscription according to International Human Rights Law. The findings revealed that the conception of defense and compulsory military service in Indonesia does not leave any chance to guarantee the rights of citizens to refuse to participate in military service according to the conscience and belief of every individual (conscientious objection). This is in contrast to the regulatory provisions of international human rights ratified by Indonesia under the International Covenant on Civil and Political Rights. Additionally, there is a need for clear arrangements regarding conscientious objection and the requirements that must be met by citizens who submit these principles for the rejection of military service in Indonesia.
References
Agusman, Damos Dumoli. Hukum Perjanjian Internasional Kajian Teori Dan Praktik Indonesia. Bandung: Refia Aditama, 2010.
Bertens, Kees. Etika. Jakarta: Gramedia Pustaka Utama, n.d.
Buku Putih Pertahanan Indonesia 2008. Departemen Pertahanan Republik Indonesia, 2008.
Chmykh, Elizaveta, Grazvydas Jasutis, Rebecca Mikova, and Richard Steyne. "Legal Handbook on The Rights of Conscripts." In Legal Handbook on The Rights of Conscripts. Geneva: DCAF-Geneva Center for Security Sector Governance, 2020.
Conscientious Objection to Military Service. New York: United Nations, 2012.
Cottey, A., and A. Forster. "Reshaping Defence Diplomacy: New Roles for Military Cooperation and Assistance." In Adelphi Paper No 356. New York: Oxford University Press, 2004.
Halim, A. Ridwan. Evaluasi Kuliah Filsafat Hukum. Jakarta: Ghalia Indonesia, 1987.
Mochtar Kusumaatmadja, and Etty R. Agoes. Pengantar Hukum Internasional. Bandung: Alumni, 2004.
Rowe, Peter. The Impact of Human Rights Law on Armed Force. New York: Cambridge University Press, n.d.
Susdarwono, Endro Tri. "Analisis Terhadap Wajib Militer Dan Relevansinya Dengan Rancangan Undang-Undang Komponen Cadangan." Khatulistiwa Law Review1, no. 2 (2020): 134.
"The Role of Youth in the Promotion and Protection of Human Rights, Including the Question of Conscientious Objection to Military Service, Adopted at the 60th Meeting on 11 March 1992." UN Commission on Human Rights, n.d. https://www.refworld.org/docid/3b00f0c618.html.
Torrijo, Ximena Fuentes. "International Law and Domestic Law: Definitely an Odd Couple." University of Puerto Rico Law Review77 (2008): 483. http://www.law.yale.edu/documents/pdf/sela/XimenaFuentes English_.pdf.
Tsani, Mohd. Burhan. "Status Hukum Intenasional Dan Perjanjian Internasional Dalam Hukum Nasional Republik Indonesia (Dalam Perspektif Hukum Tata Negara)." In Perjanjian Internasional Dalam Teori Dan Praktek Di Indonesia, 2–3. Direktorat Jenderal Hukum dan Perjanjian Internasional Departemen Luar Negeri, 2008.
UnitedNation Declaration of Human Rights
Vienna Convention on The Law of Treaties 1969.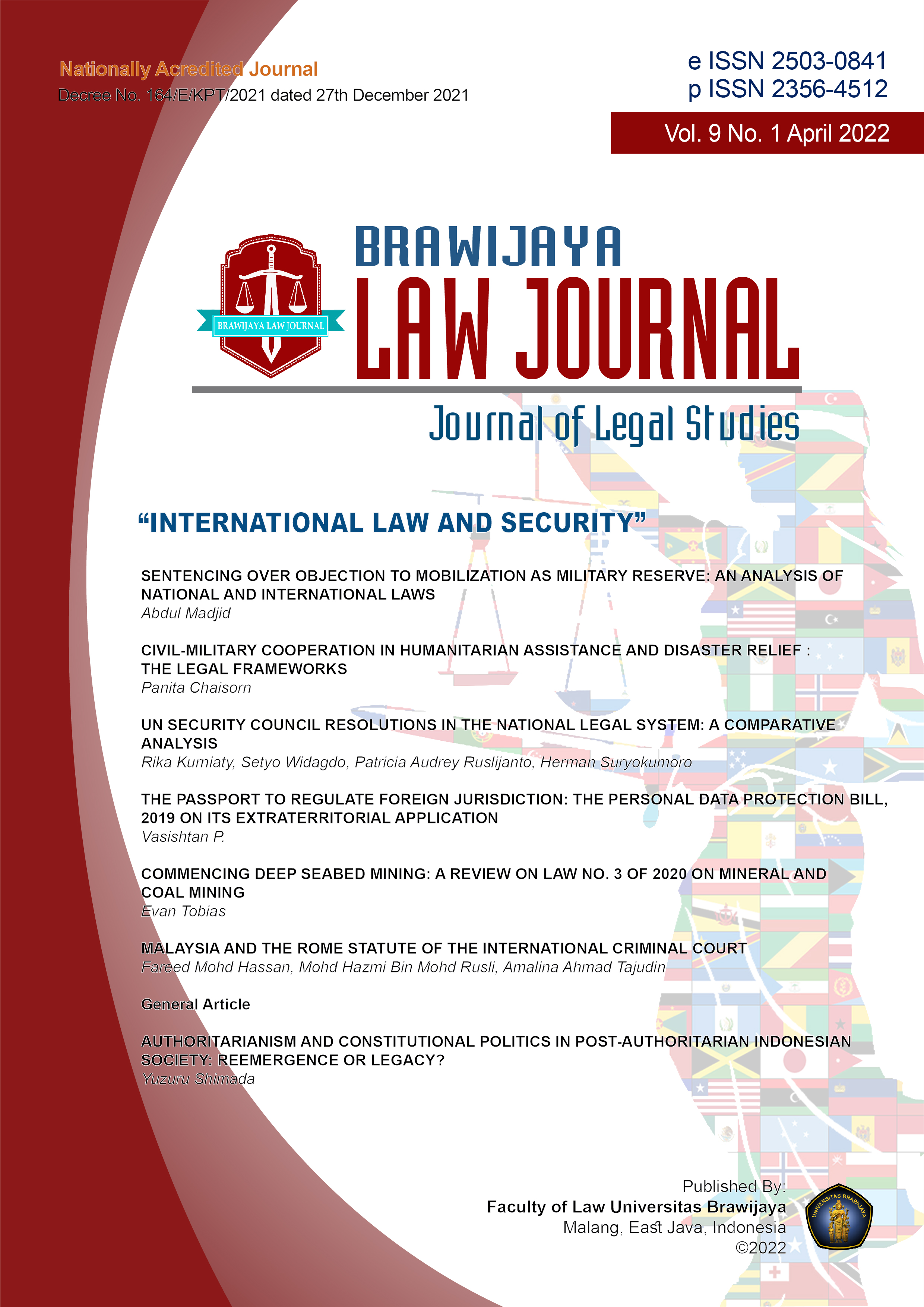 Downloads
How to Cite
Madjid, Abdul. 2022. "Sentencing over Objection to Mobilization As Military Reserve: An Analysis of National and International Laws". Brawijaya Law Journal 9 (1):1-15. https://doi.org/10.21776/ub.blj.2022.009.01.01.
License
Copyright (c) 2022 Brawijaya Law Journal
This work is licensed under a Creative Commons Attribution-NonCommercial 4.0 International License.