PRESS FREEDOM IN SINGAPORE AND MALAYSIA: DEFAMATION
Abstract
This paper focuses on the arguments around restriction on freedom of the press in the Strong States of Singapore and Malaysia. It assesses the presence of constraints on press freedoms in democratic western countries imposed by corporation rather than state and the similar effects that these constraints may have on bias present in publicly accessible news reporting. It argues that independence of the press does not just require protection from legal and executive regulation, but also protection from large media corporations and their political alignments. This report will assess the bias of reporting and news media publication that exists in Malaysia and Singapore due to legislative and regulatory constraints as opposed to bias that exist in the western liberal democratic nations of the United Kingdom (UK) and the United States of America (USA) due to Media Organisation control.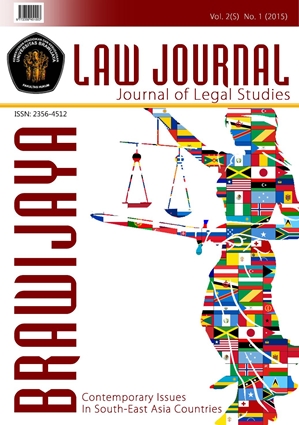 Downloads
How to Cite
Chapman, Georgia Kate. 2015. "PRESS FREEDOM IN SINGAPORE AND MALAYSIA: DEFAMATION". Brawijaya Law Journal 2 (1 (S):15. https://doi.org/10.21776/ub.blj.2015.002.01.02.
License
Copyright (c) 2015 Brawijaya Law Journal
This work is licensed under a Creative Commons Attribution-NonCommercial 4.0 International License.