ROHINGYA MINORITY IN MYANMAR BETWEEN THE RELIGIOUS PERSECUTION AND THE REALITY OF CONSTITUTIONAL PROTECTION.
Keywords:
Rohingya, a minority Muslim ethnic cleansing words, human rights
Abstract
The government's performance in the State of Myanmar raises questions about the reality of its position on what is happening to the range of its citizens who are Muslims Alrohengjian, it bear full responsibility for the protection and preservation of their rights. Despite the government's signing of Myanmar on the international agreements and conventions on human rights, despite its stated commitment to the protection of human rights and the promotion of democracy and the rule of law; the government has not taken any real action to protect the Rohingyas and address violence or stop racist policy of ethnic cleansing, which govern the Muslims of Rohingya by Buddhist extremists.
We will discuss in this paper what is really happening to the Muslims Alrohengjian in Myanmar, especially in the recent wave of persecution and ethnic cleansing against them, and we are exposed to historical backgrounds of these crimes and the role of internal constitutional provisions and the provisions of international conventions on the protection of this vulnerable minority.
References
Abid, Bahar, Racism to Rohingya in Burma, AYE CHAN'S "ENCLAVE†WITH "INFLUX VIRUSES†REVISITED, released on 27 december 2012.
Andrew, Buncome, "Homeless and Helpless: The Rohingya Muslims of the Rakhine State,†The Independent (Dec. 5, 2012), http://www.independent.co.uk/news/world/asia/homeless-and-helpless-the-rohingya-muslims-of-rakhine-state-8386822.html.
Aye, Chan, The Development of a Muslim Enclave in Arakan (Rakhine) State of Burma (Myanmar), SOAS Bulletin of Burma Research, Vol. 3, No. 2, Autumn 2005, canda University of International Studies
Ayako, Saito, Myanmar: Observations of the First Census in 31 Years, Institute of Asian Cultures, Sophia University : http://peacebuilding.asia/1679/ It was looking on : 02/07/2016.
Dean, Nelson, "Rohingya Campaigners Accuse Burma of Failing to Stop Deaths,†The Telegraph (Oct. 26, 2012),http://www.telegraph.co.uk/news/worldnews/asia/burmamyanmar/9636161/Rohingya-campaignersaccuse-Burma-of-failing-to-stop-deaths.html.
Declaration on the Rights of Persons Belonging to National or Ethnic, Religious and Linguistic Minorities 47/135, Resolution adopted by the General Assembly, 18 December 1992.
Eleanor, Albert, The Rohingya Migrant Crisis, Council on Foreign Relations (June 17, 2015), http://www.cfr. org/burmamyanmar/rohingya-migrant-United Nations Declaration on the Rights of Indigenous Peoples General Assembly resolution 61/295, New York, 13 September 2007.
Emilie, Biver, Religious nationalism: Myanmar and the role of Buddhism in anti-Muslim narratives, An analysis of Myanmar's ethnic conflicts through the lens of Buddhist nationalism, Master of Science in Global Studies, Department of Political Science, Lund University, 2014,
Fikri, Ahmad, the secrets of Myanmar, Why burn thousands of Muslims there ?, January 18, 2014, news agency Arakan. (ANA).
Franziska, Blum, In Their Own Voice "Democracy†as Perceived in Burma/Myanmar 1921 – 2010, Passau university
Hani, Salah, Muslims of Rohingya: The journey to escape from "death" to "death", Arakan News Agency (ANA), 20 February 2014.
Human Rights Watch, All You Can Do is Pray, see above note 20, p. 142; Human Rights Watch, Crackdown on Burmese Muslims.
Jacques, P. Leider, "Arakan Studies: Challenges and Contested Issues, mapping a field of historical and Cultural research, (an unpublished paper) "in Forgotten Kingdom of Arakan From Dhanyawadi to 1962, 2005
Jason, Szep & Andrew R.C. Marshall, "Special Report- Witnesses Tell of Organized Killings of Myanmar Muslims,†Reuters (Nov. 12, 2012), http://in.reuters.com/article/2012/11/12/myanmar-fighting-muslims-rakhine-idINDEE8AB00I20121112.
John, F. May & Thomas R. Brooke, Deciphering the Demography of Myanmar, Population Reference Bureau (Sept. 2014), http://www.prb.org/Publications/Articles/2014/myanmar-demography.aspx.
Jonah, Fisher, religious tensions raised by a Buddhist monk anti-Islam in Burma, BBC Arabic, August 30, 2013.
Jonathan, Head, the Muslims displaced and dispersed Myanmar and Arakan state news agency ANA, 5 March 2014.
Lynn, kuok, promoting peace in Myanmar, CSIS ? Center for strategic and international studies, Washington may 2014.
Mark, McDonald, "As Violence Continues, Rohingya Find Few Defenders in Myanmar,†New York Times (Oct. 31, 2012), http://rendezvous.blogs.nytimes.com/2012/10/31/as-violence-continues-rohingya-find -few-defenders-in-myanmar.
Martin, Smith, Ethnic Groups in Burma Development, Democracy and Human Rights, A report by Anti-Slavery International, in collaboration with Annie Allsebrook No 8 in ASI's Human Rights Series.
Michael, Charney, "Buddhism in Araka: Theories of Historiography of the Religious Basis of Ethnonyms,†2005.
Mohammed, Hassan Zkir, the history of Muslims in Arakan Burma, Congress Net, 22/3/2013,
Mohammed, Ghraib, where are myanmar located? What is the story of the burning of the Muslims there and causes ?, Masrawy, July 19, 2012.
Moshe, Yegar, The Muslims of Burma A Study of a Minority Group, Sudasien-Institut, Heidelberg university.
Muriel, asseburg, protest, revolt and regime change in the arab world, actors, challenges, implications and policy options, stiftung wissenschaft and politik German Institute for international and security affairs, february 2012, Berlin.
Population Launch 2014 Population and Housing Census Project, December 2012.
Schissler, M. (2014), Echo chambers in Myanmar: Social media and the ideological justifications for mass violence. Paper for the Australian National University Department of Political & Social Change Research Colloquium, Communal Conflict in Myanmar: Characteristics, Causes, Consequences,†17- 18 March 2014, Yangon, Myanmar.
Syed, Bakar Abdul Majeed, Muslim minority in Asia, and Australia, the Muslim World League ; http://www.almotamar.net/15707.htm, It has been viewed on : 10-07-2016.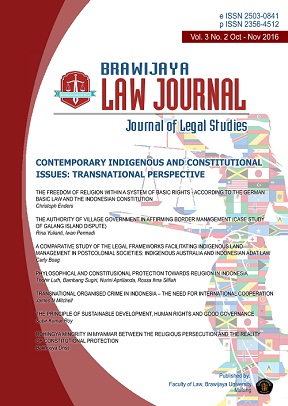 Downloads
How to Cite
Driss, B. (2016). ROHINGYA MINORITY IN MYANMAR BETWEEN THE RELIGIOUS PERSECUTION AND THE REALITY OF CONSTITUTIONAL PROTECTION. Brawijaya Law Journal, 3(2), 221–241. https://doi.org/10.21776/ub.blj.2016.003.02.07
License
Copyright (c) 2016 Bakhouya Driss
This work is licensed under a Creative Commons Attribution-NonCommercial 4.0 International License.
This journal embed or display simple machine-readable CC licensing information. This journal allow reuse and remixing of content in accordance with a Creative Commons license, Creative Commons Attribution 4.0 International License (CC BY NC)
Authors who publish with this journal agree to the following terms:
Authors retain copyright and grant the journal right of first publication with the work simultaneously licensed under a Creative Commons Attribution 4.0 International License (CC BY NC) that allows others to share the work with an acknowledgement of the work's authorship and initial publication in this journal.
Authors are able to enter into separate, additional contractual arrangements for the non-exclusive distribution of the journal's published version of the work (e.g., post it to an institutional repository or publish it in a book), with an acknowledgement of its initial publication in this journal.
Authors are permitted and encouraged to post their work online (e.g., in institutional repositories or on their website) prior to and during the submission process, as it can lead to productive exchanges, as well as earlier and greater citation of published work (See The Effect of Open Access).