Restorative Justice: an Alternative Process for Solving Juvenile Crimes in Indonesia
Keywords:
restorative justice, alternative process, juvenile crimes, Indonesia
Abstract
Restorative justice concept may refer to an alternative process for solving disputes including criminal law violation has been well known in Indonesia. The Act Number 11, 2012 on Juvenile Justice System has acknowledged restorative justice approach as a part of criminal justice system in dealing with a child in conflict with the law. It has become an essential provision in the Act as it provides option for law enforcers to avoid punishing juvenile offenders through traditional criminal approach. This research aims to examine restorative justice for juvenile offenders in Indonesia based on the Juvenile Justice System Act Number 11, 2012 as a form of alternative dispute resolution for juvenile crimes and other related laws and to provide a brief of the implementation of restorative justice in Indonesia that is integrally enforced in Indonesian criminal justice system dealing with a child in conflict with the law. It divides the discussion into two parts restorative justice in the juvenile justice system act 2012 and the implementation of restorative juvenile justice in Indonesia. In order to response to these research aims, this paper employs doctrinal legal research.
References
Braithwaite, John, 'Traditional Justice'. In Llewellyn, J. J. & Philpott, D. (eds.), Restorative Justice, Reconciliation and Peacebuilding (New York, United States of America: Oxford University Press, 2014) 214.
G., Johnstone, D.W., Van Ness, 'The Meaning of Restorative Justice' In G. Johnstone & D.W. Van Ness (Eds.), Handbook of Restorative Justice, (Oregon USA: Willan Publishing, 2007).
Marshall, Tony F., Restorative Justice: An Overview. (London: Home Office, 1999).
Yaqin, Anwarul, Legal Research and Writing, (Malaysia, Malayan Law Journal SDN BHD. 2007).
Amanda, Putri K., 'Juvenile Sex Offender Rehabilitation: How The Us Approach Can Help Indonesia Satisfy Its Commitment To Restorative Justice Principles' (2014) 4 Indonesia Law Review 86.
Ashby, Nicole, and Neilsen-Hewett, Cathrine, 'Approaches to conflict and conflict resolution in toddler relationships' (2012) 10(2) Journal of Early 145.
Azlinda, Azman and Mohdammad, Mohd. T., Crime Victims Support System and Restorative Justice: Possible Implementation in Malaysia' (2012). 1(2) Journal of Arts and Humanities18.
Ballard, Allison and Easteal, Patricia, '(Alternative) Dispute Resolution and Workplace Bullying, Some pros and cons from the coalface' (2016) 41(2) Alternative Law Journal 105.
Davies, Sharyn G. and Robson, Jazz, 'Juvenile (In) justice: Children in Conflict with the Law in Indonesia' (2016) 17 Asia-Pacific Journal On Human Rights And The Law 119, doi 10.1163/15718158-01701009.
Fathurokhman, Ferry, 'The necessity of restorative justice on juvenile delinquency in Indonesia, lessons learned from the Raju and AAL cases' (2013) 17 Procedia Environmental Sciences 967.
Gavrielides, Theo, 'Restorative justice—the perplexing concept: Conceptual fault-lines and power battles within the restorative justice movement' (2008) 8(2) Criminology and Criminal Justice 165. doi: 10.1177/1748895808088993.
Hardjaloka, Loura, 'Criminal Justice system of Children: an overview Restorative Justice Concept in Indonesia and Other Countries' (2015) 15(1) Jurnal Dinamika Hukum 73.
Horne, Cynthia M., 'Reconstructing 'traditional'justice from the outside in: Transitional justice in Aceh and East Timor' (2014) 9(2) Journal of Peacebuilding & Development 17.
Hutchinson, Terrry and Duncan, Nigel, 'Defining and Describing What We Do: Doctrinal Legal Research' (2012) 17(1) Deakin Law Review 83.
Karangan, I., 'Implementation of Law Number 11 of 2012 Concerning Child Related Criminal Justice System Concept Restorative Justice' (2016) 1(1) Pattimura Law Journal 67.
Norbani Mohamed Nazeri, Restorative Justice: Definition and Concept [Lecture Power Point Slide] (2018).
Nur Rochaeti, 'Legal Culture of Restorative Justice in Juvenile Criminal Justice System in Indonesia' (2016) 84 Proceedings of Advances in Social Science, Education and Humanities Research International Conference on Ethics in Governance (ICONEG), Atlantis Press.
Palma, Cristina A., 'Conflict resolution in community development: Are the benefits worth the costs?' (n.d.) Critical Social Policy 1.
Rochaeti, Nur and Pujiyono, Pujiyono, 'The Implementation Study of Restorative Justice for Juvenile Criminal Justice System by Customary Court in Mainland Sulawesi' (2018) 156 Proceedings of Earth and Environmental Science, IOP Conference Series IOP Publishing 1.
Syukur, Fathillah A. and Bagshaw, Dale M. 'Victim-Offender Mediation with Youth Offenders in Indonesia' (2015) 32 (4) Conflict Resolution Quarterly 390.
Wangi, Y. T., 'Policy of Development for Juvenile Delinquency in the Perspective of Indonesian Criminal Justice System Reform (Study on Institute for Special Development Children LPKA Kutoarjo, Central Java, Indonesia)' (2017) 2, JILS 85.
Windari, Rusmilawati and Widjajanti, Ermania, 'The double track system in sentencing juvenile offenders in Indonesia: Strengths and weaknesses of the Juvenile Criminal Justice System Act 2012' (2015) 23(3) IIUM Law Journal, 501.
Act Number 3, 1997 on Juvenile Court (abolished)
Act Number 11, 2012 on Juvenile Justice System
Act Number 12, 1995 on Correction Service
Act Number 39, 1999 on Human Rights
Act Number 23, 2002 on Child Protection Act
Act Number 35, 2014 on the Amendment of the Child Protection Act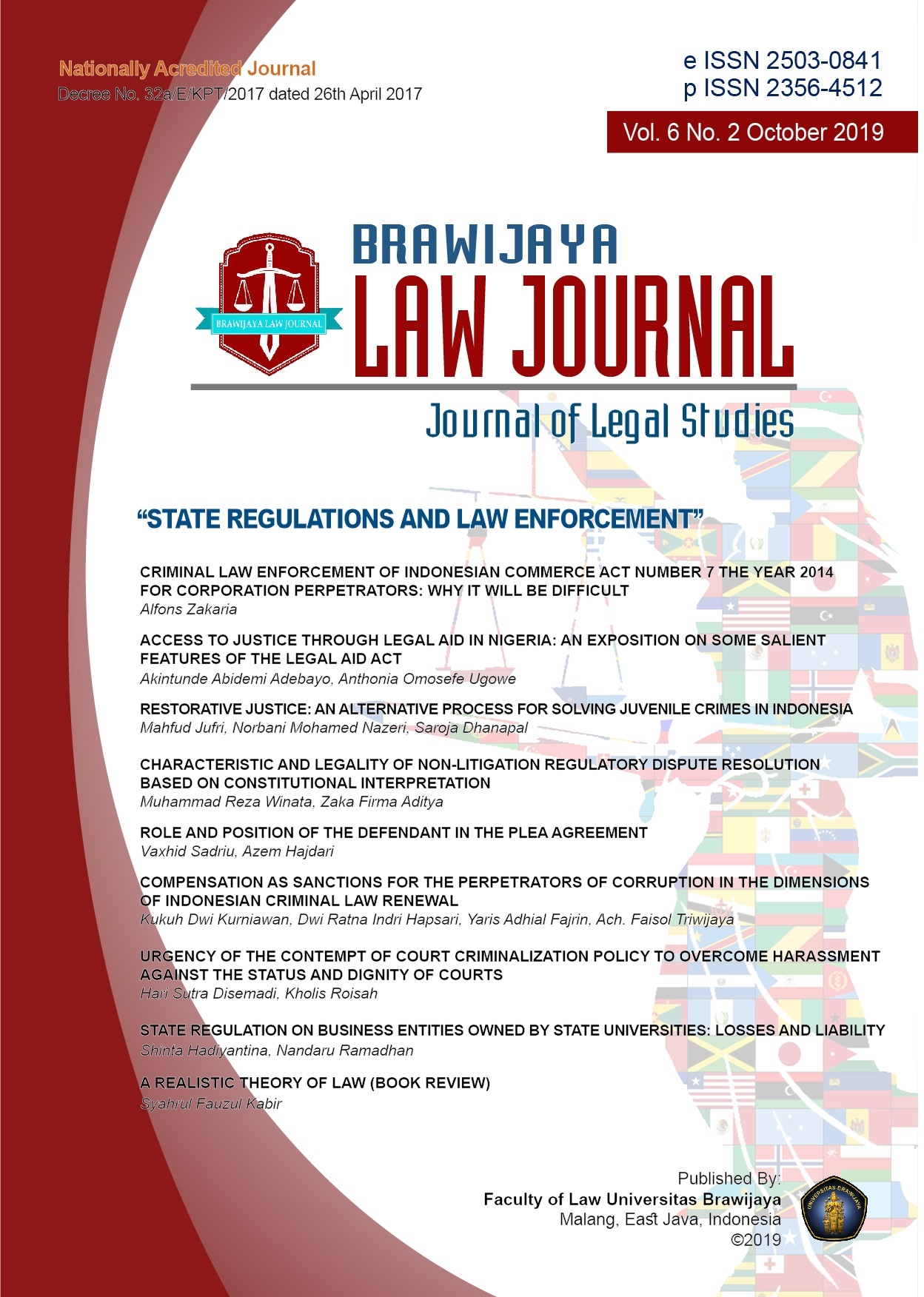 Downloads
How to Cite
Jufri, Mahfud, Norbani Mohamed Nazeri, and Saroja Dhanapal. 2019. "Restorative Justice: An Alternative Process for Solving Juvenile Crimes in Indonesia". Brawijaya Law Journal : Journal of Legal Studies 6 (2):157-69. https://doi.org/10.21776/ub.blj.2019.006.02.03.
License
Copyright (c) 2019 Brawijaya Law Journal : Journal of Legal Studies
This work is licensed under a Creative Commons Attribution-NonCommercial 4.0 International License.