Brawijaya Law Journal
Journal of Legal Studies
Brawijaya Law Journal (BLJ) is an international journal established by Law Faculty of Brawijaya University. It has 1 volume with 2 issues per year. BLJ is an open access, double peer-reviewed e-journal which aims to offer an international scientific platform for national as well as cross-border legal research. The materials published include major academic papers dealing critically with various aspects and field of laws as well as shorter papers such as recently published book review and notes on topical issues of law. The goal of Brawijaya Law Journal is to bring the highest quality research to the widest possible audience.
The journal is a law journal which addresses specificaly on legal issues covers both public and private law. It publishes articles on constitutional and administrative law, criminal law, civil law as well as international laws.  The journal sets up specific topic to be covered in each issue which can be analyzed from many perspective of laws as mentioned. However, it does not limit itself on the discussions of Indonesian Law.
BLJ accepted submission from all over the world. All submitted articles shall never been published elsewhere, original and not under consideration for other publication (For checking Plagiarism, BLJ Editorial Board will screen plagiarism with using Plagiarism Detector Program. If it is found plagiarism indication (above 15%), editorial board will automatically reject the manuscript immediately.
BLJ has been indexed in DOAJ, Google Scholar, ISJD,Crossref, SINTA, and IPI
Nationally Accredited by the Ministry of Research, Technology, and Higher Education of the Republic of Indonesia (2017-2022)
Decree No. 32a/E/KPT/2017 Dated 26th April 2017
Printed version of the series can be printed on demand (POD). The website of the journal can be accessed through www.lawjournal.ub.ac.id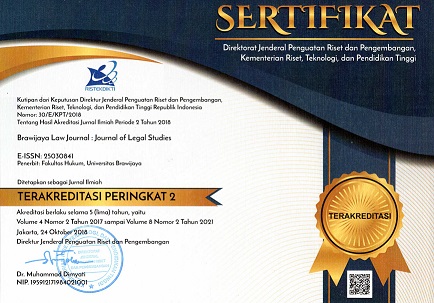 Announcements
No announcements have been published.
Vol 6, No 1 (2019): Alternative Dispute Resolution
World Peace and Security is crucial to the maintenance of public order, both nationally and internationally. Disputes arise when certain legal subject does not comply with certain legal norms which were accepted by both the practice and law in theory. In addition to this there is also a condition when a legal subject does not comply with its legal obligation under agreed contract or under international convention. In solving those various disputes, it is current trend that disputes are seldom solved through the litigation process. Peaceful disputes resolution through alternative disputes resolutions is now preferable than any other disputes settlement methods. Having published last edition focusing on the role of state in contemporary legal development, Brawijaya Law Journal is pleased to publish this current issue focusing on "Alternative dispute Resolutions" within Volume 6 Issue Number 1 April 2019.
The papers published in this edition discusses alternative disputes resolution in both private as well as public areas. This edition consists of nine papers related to alternative disputes resolutions ranging from the issues of the legality of states in the use of force to the online alternatives disputes resolution. Other paper include disputes settlement in maritime industries and business, cryptocurrency, investment, public policy issues in arbitral award, disputes settlement under the World Trade Organization (WTO), the analysis of arbitration procedures as well as disputes settlement mechanism within the areas of local wisdom.
Table of Contents
Articles
Ekundayo O Babatunde

Brawijaya Law Journal,

Vol 6, No 1 (2019)

, pp. 1-26

Emmy Latifah, Anis H Bajrektarevic, Moch Najib Imanullah

Brawijaya Law Journal,

Vol 6, No 1 (2019)

, pp. 27-37

Md Mustakimur Rahman, Mohsina Hossain Tushi

Brawijaya Law Journal,

Vol 6, No 1 (2019)

, pp. 38-49

AAA Nanda Saraswati, Choirul Hidayat

Brawijaya Law Journal,

Vol 6, No 1 (2019)

, pp. 50-59

I Gusti Ngurah Parikesit Widiatedja

Brawijaya Law Journal,

Vol 6, No 1 (2019)

, pp. 60-75

Soonpeel Edgar Chang

Brawijaya Law Journal,

Vol 6, No 1 (2019)

, pp. 76-93

Sihabudin Sihabudin

Brawijaya Law Journal,

Vol 6, No 1 (2019)

, pp. 94-103

Suherman Suherman

Brawijaya Law Journal,

Vol 6, No 1 (2019)

, pp. 104-114

Uswatun Hasanah, Mohammad Amir Hamzah, Indien Winarwati

Brawijaya Law Journal,

Vol 6, No 1 (2019)

, pp. 115-128