Brawijaya Law Journal
Journal of Legal Studies
Brawijaya Law Journal (BLJ) is an international journal established by Law Faculty of Brawijaya University. It has 1 volume with 2 issues per year. BLJ is an open access, double peer-reviewed e-journal which aims to offer an international scientific platform for national as well as cross-border legal research. The materials published include major academic papers dealing critically with various aspects and field of laws as well as shorter papers such as recently published book review and notes on topical issues of law. The goal of Brawijaya Law Journal is to bring the highest quality research to the widest possible audience.
The journal is a law journal which addresses specificaly on legal issues covers both public and private law. It publishes articles on constitutional and administrative law, criminal law, civil law as well as international laws.  The journal sets up specific topic to be covered in each issue which can be analyzed from many perspective of laws as mentioned. However, it does not limit itself on the discussions of Indonesian Law.
BLJ accepted submission from all over the world. All submitted articles shall never been published elsewhere, original and not under consideration for other publication (For checking Plagiarism, BLJ Editorial Board will screen plagiarism with using Plagiarism Detector Program. If it is found plagiarism indication (above 15%), editorial board will automatically reject the manuscript immediately.
BLJ has been indexed in DOAJ, Google Scholar, ISJD,Crossref, SINTA, and IPI
Nationally Accredited by the Ministry of Research, Technology, and Higher Education of the Republic of Indonesia (2017-2022)
Decree No. 32a/E/KPT/2017 Dated 26th April 2017
Printed version of the series can be printed on demand (POD). The website of the journal can be accessed through www.lawjournal.ub.ac.id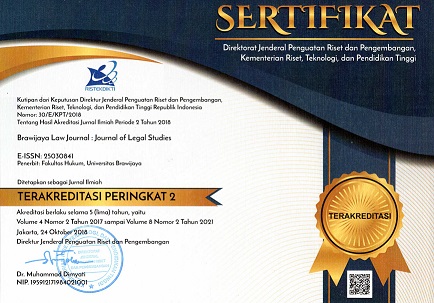 Announcements
No announcements have been published.
Vol 7, No 1 (2020): Contitutional Issues: Economic, Social and Cultural Rights
The Economic, Social, and Cultural rights are still considered human rights that are positioned on the second level below civil and political rights. It is happening not without any reason, for the fact in some countries use these rights exception to gain special privileges, such as right fulfillment delay. Moreover, if the right is not considered to be the main issue that will affect voters then those rights will be ruled out. As well as the right to enjoy the good living, the right to health, the right to have land, and much more. The fulfillment of these rights became more sluggish because the government has always been evidence of the country does not have sufficient funds to fulfill the economic, social, and cultural of its citizens whereas almost all countries have become part of the ICESCR.  ICESCR itself orders the government to  "fulfill, respect, and protect" the rights of its people. So the government also needs to pay more attention to this problem.  This issue can be discussed through a variety perspective and point out each of the rights in specifics area of rights. This Edition cover 9 various issues related to Economic, Social and Cultural Right issues in several countries.
Table of Contents
Articles
Kalu Kingsley Anele

Brawijaya Law Journal,

Vol 7, No 1 (2020)

, pp. 1-26

Imam Kuswahyono, Hikmatul Ula

Brawijaya Law Journal,

Vol 7, No 1 (2020)

, pp. 27-44

Subir Kumar Roy

Brawijaya Law Journal,

Vol 7, No 1 (2020)

, pp. 45-56

Abdullah Abdullah, KN. Sofyan Hasan, Iza Rumesten, Taroman Pasyah

Brawijaya Law Journal,

Vol 7, No 1 (2020)

, pp. 57-69

Indah Dwi Qurbani, Theresia Sumarno, Retno W. N Cassy

Brawijaya Law Journal,

Vol 7, No 1 (2020)

, pp. 70-81

Murtala Ganiyu A. Murgan, Hakeem Ijaiya

Brawijaya Law Journal,

Vol 7, No 1 (2020)

, pp. 82-95

Febrian Indar Surya Kusuma, Sapto Hermawan

Brawijaya Law Journal,

Vol 7, No 1 (2020)

, pp. 96-107

Wahyu Yun Santoso, Araya Anggara Putra, Jonathan Hendson Passagi, Yoda Rifky Hanindya, Annisa Azura Tagar

Brawijaya Law Journal,

Vol 7, No 1 (2020)

, pp. 108-128

Sufiarina Sufiarina, Herman Sudrajat, Hamidullah Mahmud

Brawijaya Law Journal,

Vol 7, No 1 (2020)

, pp. 129-139