Brawijaya Law Journal
Journal of Legal Studies
Brawijaya Law Journal (BLJ) is an international journal established by Law Faculty of Brawijaya University. It has 1 volume with 2 issues per year. BLJ is an open access, double peer-reviewed e-journal which aims to offer an international scientific platform for national as well as cross-border legal research. The materials published include major academic papers dealing critically with various aspects and field of laws as well as shorter papers such as recently published book review and notes on topical issues of law. The goal of Brawijaya Law Journal is to bring the highest quality research to the widest possible audience.
The journal is a law journal which addresses specificaly on legal issues covers both public and private law. It publishes articles on constitutional and administrative law, criminal law, civil law as well as international laws.  The journal sets up specific topic to be covered in each issue which can be analyzed from many perspective of laws as mentioned. However, it does not limit itself on the discussions of Indonesian Law.
BLJ accepted submission from all over the world. All submitted articles shall never been published elsewhere, original and not under consideration for other publication (For checking Plagiarism, BLJ Editorial Board will screen plagiarism with using Plagiarism Detector Program. If it is found plagiarism indication (above 15%), editorial board will automatically reject the manuscript immediately.
BLJ has been indexed in DOAJ, Google Scholar, ISJD,Crossref, SINTA, and IPI
Nationally Accredited by the Ministry of Research, Technology, and Higher Education of the Republic of Indonesia (2017-2022)
Decree No. 32a/E/KPT/2017 Dated 26th April 2017
Printed version of the series can be printed on demand (POD). The website of the journal can be accessed through www.lawjournal.ub.ac.id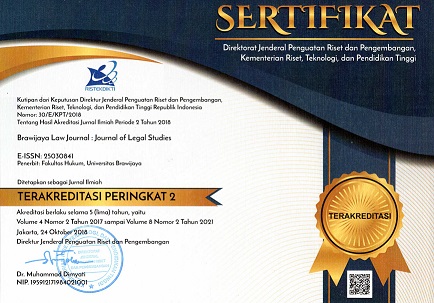 Announcements
No announcements have been published.
Vol 8, No 1 (2021): Contemporary Issue in Private Law
The relationship between individuals and individuals, individuals and legal entity, and legal entity with individuals, has forming private law. Private law effects the rights and obligation of individuals and legal entities. Those relationship develops from time to time, it also caused the development in private law sector. Because of that, Brawijaya Law journal addressed the development in Private Law in Indonesia and another state this edition.
We are most grateful to our international board of editors as well as our reviewers and the Faculty of Law Universitas Brawijaya in making it possible for this issue to be published.
Table of Contents
Articles
Uche Nnawulezi, Bosede Remilekun Adeuti

Brawijaya Law Journal,

Vol 8, No 1 (2021)

, pp. 1 - 14

Egzonis Hajdari

Brawijaya Law Journal,

Vol 8, No 1 (2021)

, pp. 15 - 35

Subadi Subadi

Brawijaya Law Journal,

Vol 8, No 1 (2021)

, pp. 36 - 53

Egute Matthew Amandong

Brawijaya Law Journal,

Vol 8, No 1 (2021)

, pp. 54 - 69

Ratna Sumirat, Rianda Dirkareshza

Brawijaya Law Journal,

Vol 8, No 1 (2021)

, pp. 70 - 90

Muchamad Ali Safa'at, Aan Eko Widiarto

Brawijaya Law Journal,

Vol 8, No 1 (2021)

, pp. 91 - 112

Biju R K

Brawijaya Law Journal,

Vol 8, No 1 (2021)

, pp. 113 - 131

Hamja Hamja, Faizin Sulistio

Brawijaya Law Journal,

Vol 8, No 1 (2021)

, pp. 132 - 146

Djumikasih Djumikasih, Thohir Luth, Abdul Rachmad Budiono, Imam Koeswahyono

Brawijaya Law Journal,

Vol 8, No 1 (2021)

, pp. 147 - 158